In lieu with BOMBA requirement, Q Sentral has establish an Emergency Response Team (ERT), which among others, included First Aiders that would respond to emergency situations in the building. As part of the ERT's directive, Q Sentral Management has prepared Automated External Defibrillator (AED), First Aid Kits, First Aid Room and various emergency equipment to be utilised during emergency situations.
AUTOMATED EXTERNAL DEFIBRILLATOR (AED)
An AED, or automated external defibrillator, is used to help those experiencing sudden cardiac arrest. It's a sophisticated, yet easy-to-use, medical device that can analyze the heart's rhythm and, if necessary, deliver an electrical shock, or defibrillation, to help the heart re-establish an effective rhythm.
This livesaving equipment may be found at Level G and Level 12 lobby area.
HOW TO USE AN AED

Check unresponsiveness. Determine that the patient is both unresponsive and not breathing.
Call the emergency service (999), and retrieve the AED.
Open the AED lid, and follow the voice instructions.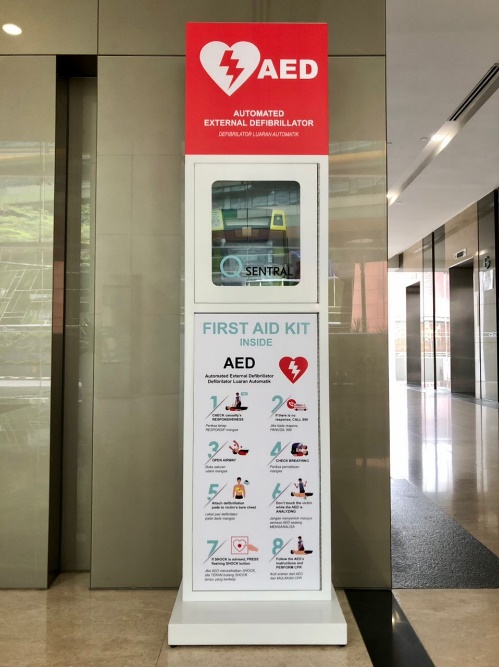 FIRST AID ROOM – LEVEL 12
Equipped with a stretcher, wheelchair, first aid box and a spinal board.