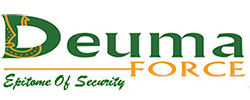 Deuma Force Sdn Bhd (DFSB)
Deuma Force Sdn Bhd (DFSB) was established in the year 2013 and is one of Malaysia's security
company with an employee base and a national infrastructure with offices in the capital cities of all
states. Through our years of experience providing security services for the government sector and
non-profit organization, we have developed a comprehensive understanding of the security needs in
Malaysia.
While we strive to equip ourselves with the latest in security innovation and solution, we also firmly
believe in a workforce driven approach. This is why we consider our team as highly trained
professional to be backbone and primary asset of our company.